Well, actually, I WAS kind of worried. Yesterday I sat down to do some scrapbooking for the first time in quite a while. I still had three layouts to finish from my
"Year In Review"
series, which I'd intended to finish before the end of 2010, but somehow the end came and went, and I was still just sitting here trying to remember where I'd left my scissors.
It's always a bit of a worry going back to a craft after having a break from it. There are times while scrapbooking that I've just sat and stared at the papers. I'm not exactly sure what good this does, but perhaps if I concentrate REALLY hard, they'll arrange themselves into some sort of pleasing configuration.
Yesterday wasn't like that though. Yesterday was one of those magical days where everything just seemed to work. And I could find my scissors with ease.
The first layout is for September. September is when I started doing volunteer work at the RSPCA, so I thought I'd do a little something on that. The background is part of a vintage pillowcase stuck to some cardstock, and the frills are just different scraps that I had laying around (mainly October Afternoon and The Girls Paperie).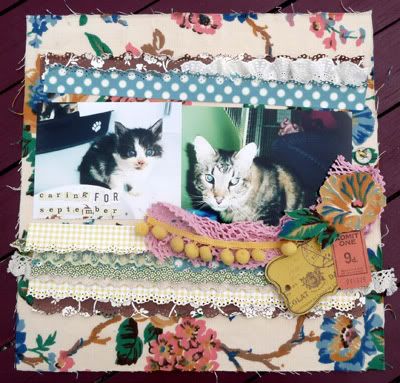 "Caring For September"
The next layout is for November, when we started the Made With Love Bazaar. I know that these photos are actually from the December markets we had, but I like them. So there. The paper is the "Simply Stylish Collection" from Scribble Scrabble, and the chipboard dressing table is from Dusty Attic. Dusty Attic have THE best chipboard shapes. The polka dot doily was a pressie from my lovely scrappy friend
Gill
.
"November Is Made With Love"
And finally - December. These paper are The Girls Paperie "On Holiday" range. Even though I was doing paper stuff, I seemed to keep wanting to get my sewing machine out, so I've stitched over the top of the dress pattern borders. The brown frame was an awesome op-shop find.
"Discover December"
Whew. The year is now finished, paper-craft style. Hurrah!
Also, for all of those scrappy gals (and guys) out there who know how cool they are, my clever friend
Michelle
has designed a
tee
just for you. Check it out. Buy it. Wear it with pride.