Yesterday I picked up a wonderfully 90's dress in the op-shop, and my head was filled with visions of alterations and all sorts of excitement that could make it acceptable for public viewing. Granted, my alteration skills aren't fantabulous - my skills extend only as far as taking things up, letting them out, and mending them. This project was a little ambitious for me.
BEFORE
Please note:
Shoulder pads that create a shoulder span enviable of any American footballer
Gaping buttons over... bodice area
Flattering length that makes me look like someone's well-intended spinster aunt
Cute fabric
I was so excited about its potential that by the time I got home I had a killer headache and had to have a little nap. Until this morning. But today, after my Sunday morning laze about and coffee out on the patio, I got straight into that sucker.
Removed the shoulder pads (such a shame really. I enjoy looking like I could balance pint jugs on my shoulders).
Cut the sleeves off, leaving an inch of fabric to be folded under the edge to create the new hem.
Added darts to the bodice - those shoulders REALLY didn't want to stay down.
Folded back the top of the neckline, to create a collar-type effect.
Sewed buttons back onto the outside of the collar, to create a feature. Yeah, a feature. I'm so fancy that I astound myself sometimes.
Took the length up.
And this is what I ended up with:
AFTER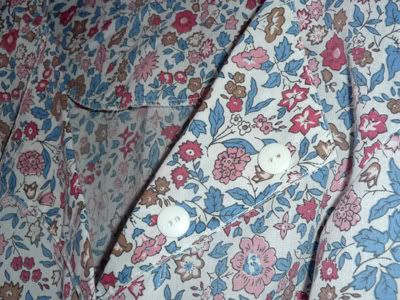 Collar
The neckline now sits really nicely, and I'm so pleased with myself for actually doing it that I skipped through the house a few times, forcing Susie to praise me. I didn't even have to unpick anything that I'd done! Now, that's what I call an accomplishment.
I've also finished Jake's mobile phone cosy. As anticipated, it was very fiddly. What was not anticipated was which bit would be fiddly. The applique was the part that I was concerned about. And yes, it was fiddly, but easy enough to do. The body, however... led to me using MA+ rated language, and smoking furiously on the patio several times. I won't go in to what went wrong, but suffice it to say that I'm not as good at using maths as I think I am.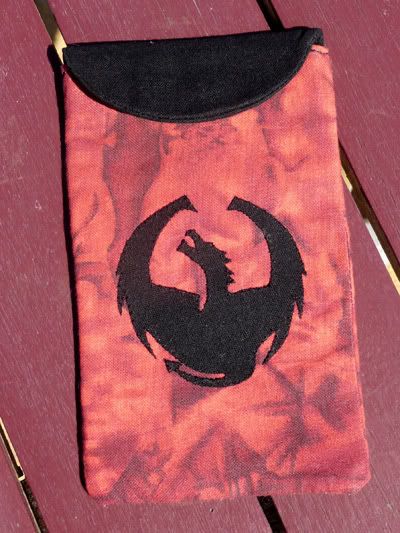 I'm really happy with the finished product, and through years of counselling and help from friends, I will slowly but surely recover from the trauma of making it.