On Tuesday I received my package of new October Afternoon papers, and yesterday I got down to work. I love October Afternoon so much! As far as I'm concerned, they can do no wrong. Fun, vibrant colours, retro prints and images… It makes me feel all warm and fuzzy on the inside.
Anyway, soliloquy aside, I got down to it yesterday afternoon. I managed to get two layouts done, a personal best for a while now. The first is my August in review, which is about my move to Tassie. Of course – I don't shut up about it while talking to other people, so why would I not harp on about it in my scrapbooking? I've used a terribly cute toy mirror that I bought from a craft show a couple of months ago, and also some flowers I've crafted from some scraps I had from a bag I'd made the other night. I was inspired by a friend who is in the process of making a rag rug, and have made the flowers in a similar fashion.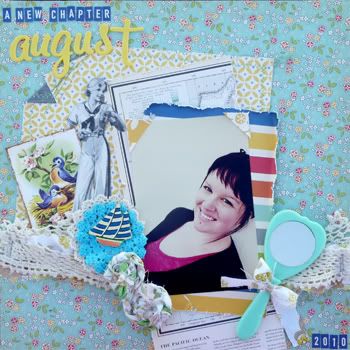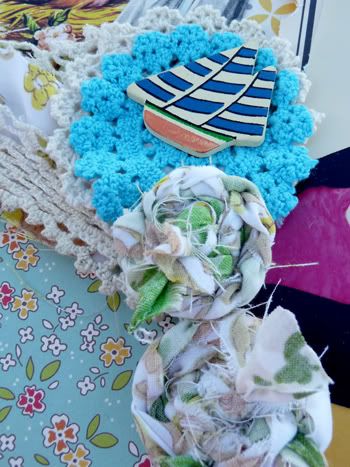 When I first saw these papers, I really dug them, but wasn't sure what I'd use them for. There's a total beach theme happening (funnily enough this range is called "Seaside"), and I wanted to continue that. However, being as fair skinned and temperamental as I am, I'm not much of a beachgoer. To me, the beach in summer is a whimsical and foreign concept… "You mean, you actually go out – in the SUN?!?". Therefore, beach photos are a bit thin on the ground. But the other night I walked into my room, and glanced at the photos hanging above my bed. I have various photos of friends there, but the one that caught my eye was one of my friend Jake – at a beach. Late 2008, Jake and I went on an epic road trip that took us from Darwin to western Sydney, via Hervey Bay. This photo in particular was taken during our few days in Hervey Bay, when we'd gone exploring the locale. I've always really liked it because he didn't know I was taking it, and thereby wasn't able to be a smart ass and ruin the picture. I didn't want to go over the top with the embellishments and go all girly on it (I think the checked background is quite masculine. I also didn't think Jake would appreciate being on a feminine layout) so I've been relatively restrained. Plus I couldn't find any other appropriate embellishments.
I can't believe September is nearly over. I am going to be horribly clichéd here and say it – the year goes by so quickly! I'm quite eager for October to arrive though, as I'm going away on a craft weekend to Port Sorrell. "Where's that?" you ask. I'm not sure. East somewhere. But anyway, I've been attending a weekly craft group called Stitch 'N' Bitch, and they've organised a lovely crafty weekend away. It involves a trip to the RSL, drinking, hopefully a tribute band, sewing, op-shopping, and general craftiness and gossiping. I'm very excited about the prospect of it, and have bought a dress pattern in preparation. I have no idea what else I'll work on while I'm there, so I'm going to have to do some serious brainstorming over the next week. And also find some fabric to make my lovely 60's swing dress from. Ahhhh, Stitch 'N' Bitch – where would I be without you?
I've added some extra pages to my blog, featuring Ye Olde stuff that I have crafted over the past year or so. Check it out!