Now, I know that I've been fairly absent lately – both physically and mentally. The monkey in my brain is struggling to keep up.
The reason is because of some extra work that I took on – the graphic design work for the Bloomin' Tulips Festival in Wynyard. For my New South Welshman friends, think Blue Mountains Winter Magic Festival with more flowers and less hippies. The work meant that I had a pretty hectic schedule for over a month, and a lot of things fell to the wayside in the meantime (like sleep, regular meals, a social life… you know, the usual).
The work itself was fun, challenging, occasionally traumatic, but overall a great experience. Posters of my design are scattered throughout the north-west and tourist information centres over the state, my ads have been in the paper and online, and I've even done program and ticket designs. My Mum's pretty proud of me.
I did the design for the Mayoral Ball poster and other assorted paraphernalia. The theme was Mary Poppins, so I went with the whole chimney-sweep dance thing. I always loved that bit in the movie when I was a kidlet, and may have even danced around the lounge room in the mistaken belief that I was every bit as footloose as Bert.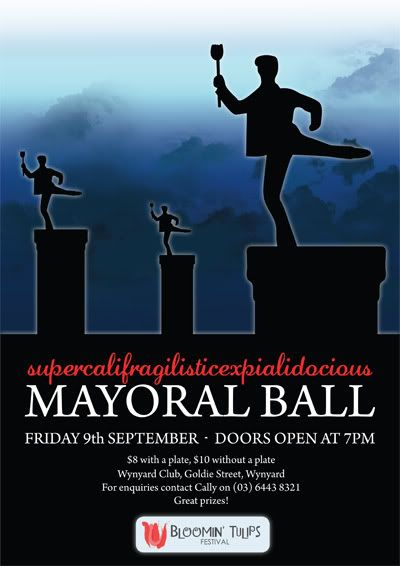 I also did the poster for the festival itself, which ended up being the most challenging. The brief was to come up with something that encompassed the entirety of the festival – balloon animals and all.
My favourite design that I came up with, and that I've been getting the most comments on (cue swelling of head), are the designs for the cocktail party. I came up with a cocktail party duo – a guy and gal ready to get their party on. The posters are displayed alternately throughout shops, so that people walking around will see one in one shop, and then the other half of the couple in another shop. I love my couple.
This is the first time that I've done graphic design for quite a long while, and was the cause of a fairly public
freak-out
at the beginning of the process, but it's finished now, and all in all I'm happy with the results.
Now I think that I may just have a nap.