Ok. I'm back. Sydney chewed me up and spat me out, but like a lightning strike victim I am piecing my shattered life back together. I may still have nights where I wake up screaming though.
So things didn't QUITE go according to plan (like the day where I fell through my Mum's front verandah), but I still had a few good moments. And for the other moments, I just got drunk. It helped.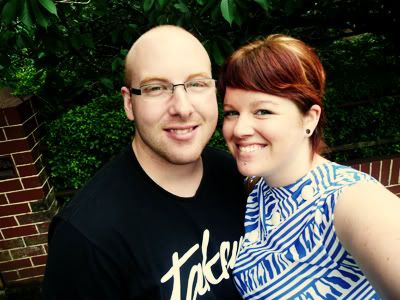 Lunching in Leura - I spent a lovely hour or two with a friend in a bakery in Leura (in the Blue Mountains). We spoke of friends, life and philosophy. And when I say that WE spoke of philosophy, I mean that he did. My brain turned around halfway through this chat, and said "Sarah, you're on your own here." My reply to a very well-thought out statement on my friend's behalf was therefore, "Wow. That's deep man." I ate a really nice pie though.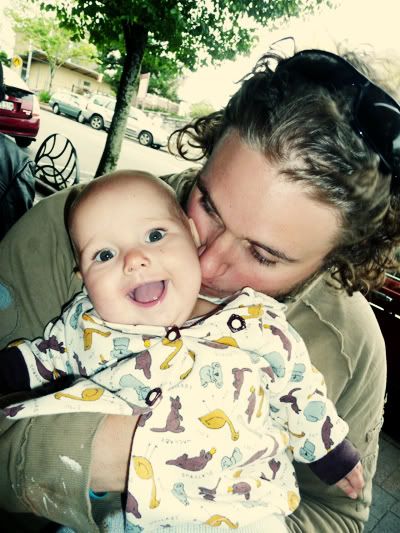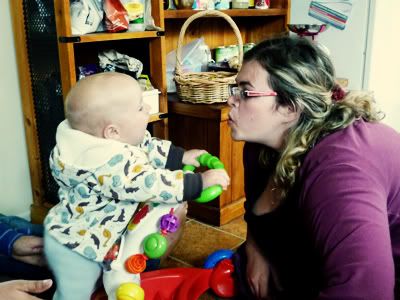 Going to Coles in Katoomba - For those who don't know, Katoomba (also in the Blue Mountains) is a very alternative area, full of hippies, left-of-centre folk, and a reasonable amount of pot smokers. My friends and I went into Coles to pick up our pizza ingredients, and rocked up to the check-out. I was holding their baby, whom the check-out chick immediately started cooing over (this kid is going to be an absolute heart-breaker), and asked whether he looked like Mummy or Daddy. Without thinking, I looked across at the bub's Mum. The check-out chick looked between us, looked startled, and then abruptly told us the amount owing. It wasn't until a moment later that I realised that she'd thought that I was Mummy #1, and my friend was Mummy #2. We left the shop, cracking up laughing. That's what people get for stereotyping relationships. Hmph.

Being a nerd in Westmead - I went to a drink's night at a mates place, and we ended up staying awake most of the night (long after all of the soft people had already gone to sleep), talked about nothing, and watched internet videos. We also quoted a lot of cartoons to each other, amidst gales of laughter. I love being a nerd sometimes.

My birthday - And the point when I decided to change my birthday. My actual birthday ended up being not such a great day. Which is difficult. I like birthdays. It was MY day. How dare it not work according to plan. Following this, I came to the conclusion that there is far too much pressure on you to have a great day. Things happen. It's not always possible. I therefore made the following week my birthday, and it worked out fabulously. I had let everyone know my plan, so there were still a few people who wished me a good day, and I got to pick all of the good moments as my memories for my twenty-somethingth birthday.

Drinking champagne at Sydney airport - My aunty and her partner picked me up from the airport when I arrived, and greeted me with a bottle of champagne. We stood in the disgustingly hot carpark, drank champers from crystal glasses, and raised them to any and all passersby. The only downside to this is that I was fatigued, hungry, and 2 glasses of alcohol went straight to the chatty part of my brain. I hope that my aunty has learnt her lesson.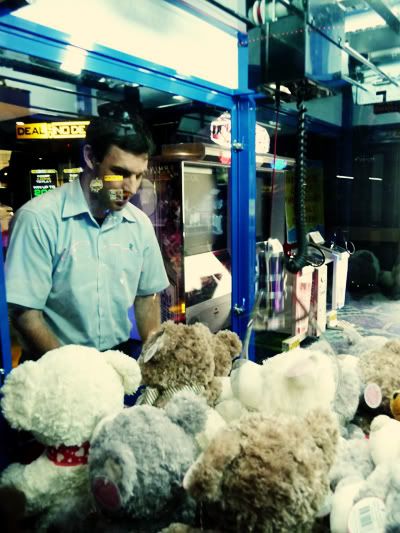 Playing arcade games in Penrith - My friend and I frequented the local arcade, and I kicked his ass at air hockey. A short story, but it was a very satisfying moment for me.
Receiving compliments - I'm not going to be modest here. I received a lot of compliments, and it was great. People commented on my hair (kudos to
Michelle
for making it fab), my clothes, and even my complexion. The only negative part of this is that I'm thinking I must have looked pretty shit before I moved. I think one of my friends summed it up best by saying, "Before you left you wore black. And had black hair. Now, you have red hair, you're wearing floral, and you have a TAN!" I know in my heart of hearts that Tasmania was definitely a good move for me - I'm emotionally 100% better than I was before, and it was nice that other people noticed it as well.
Wow, that's deep man.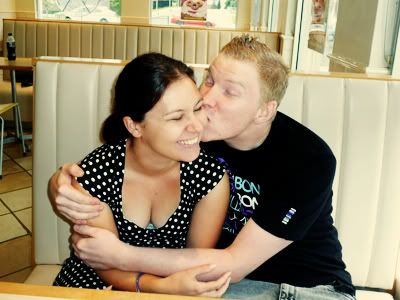 Getting cosy at Krispy Kreme
Gill and her Valentine's Day present