Saturday saw our second Made With Love Bazaar, another pretty cool day. A few of us decided to get our 50's on, and the week previous was spent planning clothes, gloves, hair-do's and general 50's fabulousness. Those who didn't dress up still got into the spirit with some lovely aprons adorning their person.


The weather, again, was dicey. But hey, Tasmania – what more can you expect? This time, as well as our crafty stalls from last time, we also had a couple of extras including a coffee van, and
Allana
in the kitchen serving tea and coffee and cupcakes. Delicious cupcakes.
Early in the day
Claire
and I walked down to the RSL to put our sandwich board outside. We got a few glances from people driving past (I can only imagine how impressed they were with our outfits), and we made the most of it by singing Sandra Dee and dancing a little bit.
We had a couple of minor crises during the day, one of which was the collapsing of our *awesome* hanging system in the Green Room. I legged it into the room (no mean feat in high heels), made sure nobody was hurt, then acquired
Claire
's toolbox and got my 50's housewife handyman thing on.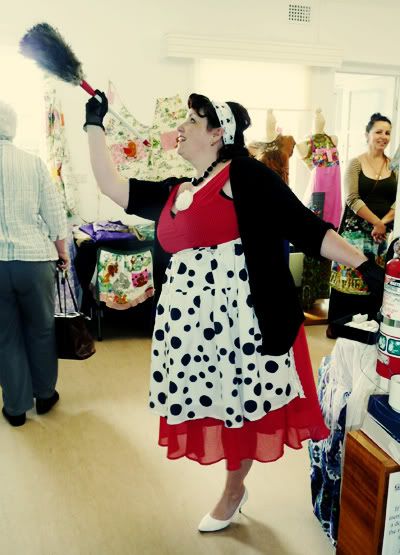 I didn't manage to get as many photos this time… I think I got distracted by doing 50's poses. And
Michelle
's feather duster. Some of the following pics are nicked from
Michelle
's blog (in between dusting people, she managed to get some good shots).

The next market will be coming up in January sometime. A date hasn't been decided on, but we'll keep you posted. I think a few of us need a sewing breather. Our poor little fingers can only produce so much. I'm looking forward to it though - sewing pain can only make us stronger! *insert evil laugh*