I love junk mail. I do. I eagerly await every new week of fresh new publications for my perusal. I get a feeling of giddy glee when I hear the pitter patter of the feet of the junk mail fairy (heavy, thudding footsteps, interspersed with some dragging, of the lady who is married to our gardener, Tony. We call her Mrs. Tony) delivering my beloved catalogues right to our door.
There is a frenzy when I first get them in the house, to discern the value of each catalogue, and how many in the pile are worth looking at. I know no disappointment like that of finding only Coles and Woolworths catalogues. Food? FOOD?!? I care not for this rubbish that you wish to force upon me. How am I supposed to daydream about lamb? I want to daydream about cowl necks, and envision myself in a room with THAT lamp in it. I want to imagine having an unlimited supply of money, and being able to buy everything that I want from the catalogue. I want.... well, everything really.
Yes, I'm aware that I am enforcing a culture of consumerism. Yes, I know that the paper used to create such publications hurts the environment and baby Jesus, and that I will more than likely burn in hell (on top of a pile of Coles catalogues).
I just don't care. It's an addiction. It somehow always knows what it is that my heart truly desires, and it delivers. It just gets me.
Like this week's offering from the altar of cut-price goods...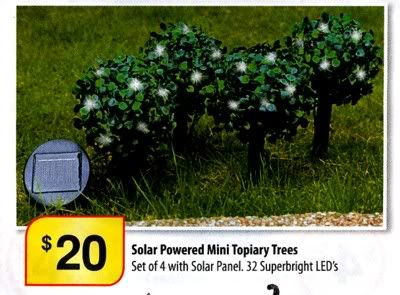 Isn't that amazing? Here I was thinking, just the other day, about how my life was lacking because I didn't yet own my very own Solar Powered Mini Topiary Tree TM. A Box Hedge - sure. I've had one for years. But that shit's old hat. Topiary is the way of the future.
Junk mail, I love you so.